---
Learning Objectives

By the end of this unit, students will be able to:

Identify an aspect of music that represents an innovative development, or an evolutionary progression. CLO#6

Examine and present research related to the innovative development or evolutionary progression identified. CLO#6, CLO#7

Identify and present two performances that illustrate the progression of innovation or evolution. CLO#9

Define basic information for the compositions in the presented performances. CLO# 14

Analyze the two performances by comparing and contrasting musical elements that have transformed as a result of the innovation or evolution. CLO#3, CLO#8

Express an aesthetic opinion related to a comparative analysis. CLO#5, CLO#8, CLO#9

Present research with appropriate citations in MLA format. CLO#12, CLO#16

Analyze and present reactions to an innovation/evolution presented by other students. CLO#9

Describe their own opinion on the works and musical analysis presented by other students. CLO#15

Propose other musical elements, research, or musical selections that could be examined in response to analysis by other students. CLO# 3, CLO#15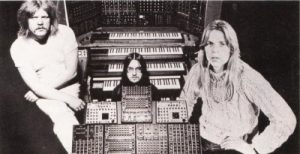 Unit 5 Instructor Lecture
Music is constantly evolving. Why wouldn't it? If it didn't, we'd still be using all acoustic instruments made from natural materials, with no system of keys. Styles evolve too.  We'd never have gotten to Elvis, much less Loud Wire Music Awards without innovations in style.
Below the video are just a few topics with links for you to initiate your exploration. Feel free to take on your own topics. There is a growing list at the bottom of this page of topics that don't require approval.
Suggested Topics - Innovations and Evolutions Blog

Topics you could choose, with links to get you started…. Other topics you could explore (search online):

The microphone,
The Modern Day Flute, Clarinet, Oboe, French Horn, Timpani,
How the grip on drumsticks as recently evolved,
The Blues,
The Ukulele, Today's Bagpipe, The Evolution of the Organ,
The Origins of Rap Music
From Napster to Pandora and Spotify
Country Rap
The Evolution of Acapella Singing
Weirdo instruments – the hurdy-gurdy, glass harmonium, or the theremin…..
The use of featured singers in pop music
Digital downloads
Music videos

Have another topic in mind? Send an email to your instructor to make sure it is a suitable topic.

Checklist of Learning Activities for this Unit

Review Instructor Lecture

Browse Suggested Topics.

Read the Instructions -Innovations and Evolutions Blog.

Select a topic covering an aspect of music related to innovative development, or evolutionary progress. LO#1

Research your selected topic. LO#2

Select two examples of music that illustrate an innovative or evolutionary progression. (i.e. a harpsichord work, and a work on a modern piano.) #LO 3,

Read Blog Post Requirements – Innovations and Evolutions.

Create an Innovations and Evolutions blog post. LO #3-#7

Submit the URL of your blog post on Bb.

Read Instructions – Innovations and Evolutions Comments.

Comment on 2 classmates "Evolutions and Innovations' posts offering your opinions and additional learning. LO# 8, 9, 10

Copy your comments and submit them via Blackboard.

Innovations and Evolutions Checklist  — A downloadable copy.

Instructions - Innovations and Evolutions - Blog Post

Innovations and Evolutions   –   Click the link to a downloadable copy.

Pick a Topic

For this assignment, you are going to be creating a  blog  post that relays a short story from music history. Your story is going to illustrate how music went from "Point A' to "Point B.'   The Reference Materials links (found in the  Instructor  Lecture  section)  for this assignment are a  starting point. You are encouraged to explore further. The  internet  is great — but periodicals and books are also wonderful sources. You have been given some topics in the Reference Materials, but you are not limited to those topics. There is so much to explore!!! Follow your own inclinations. Ask your instructor if you  aren't  sure your topic is a good one.

Careful Topic Selection

A narrow focus is recommended for this assignment. For example, if you are looking at the flute you  wouldn't  want to tell the whole story from primitive instruments to the modern symphonic flute. Instead, you would want to focus a smaller topic, like how the flute went from the flutes of the Renaissance era to the end of the 1800's.   Other potential flute topics would be the development of the piccolo or a discussion that focused on the addition of keys, or the importance of the conical bore.

It's All About the Music

Reading about music only gets you so far. Your  blog  is going to need to provide some "real' music. You will need at least 2 selections of music for this  blog. Ideally, an example of your "Point A' and "Point B.' Your readers and instructor need to be able to get to these examples with ease.

Your Opinion

Use your musical elements vocabulary to describe the differences in the examples you provided AND your aesthetic preferences.

 Scholarship

Like your previous  blogs, you will need at least two cited sources. What reputable sources did you use? Who wrote the music? Make sure you include the basic information (title, composer, date and where it was composed/released) about each work you featured in your  blog.

Editing

Good writing counts. Penalties for poor editing will be applied. Same thing for video presentations. Don't ramble. Have a script or an outline to follow.

Grading Criteria - Innovations and Evolutions

In this analysis assignment, you will be graded on the following:

Basic Information — Title (in italics if necessary), date, composer, country of origin — 10 points
Describing and illustrating your chosen topic in innovation or evolution, and your opinion. — 50 points
Citing your research, and utilizing quality sources — 20 points
Presentation — 20 points

Blog Post Requirements - Innovations and Evolutions

A clear title presents the blog, which includes "Innovation " or "Evolution" in the title.
A link to the songs or works being analyzed. A minimum of 2 are required to illustrate the progression from point A to point B.
Titles of the songs or works (usually in italics), composers, the date it was written or released, and country of origin clearly supplied in the text of the blog post.
A summary presentation of the research conducted on your chosen topic. A minimum of two reputable sources required.
A clearly formatted analysis of at least two musical elements found in the musical selections chosen that have been changed or transformed as a result of the innovations or evolutions.
A statement of your  personal  aesthetic reaction related to the analysis of the transformation of the musical elements presented
Carefully edit your blog post.
Sources are cited below the article in MLA style. All internet sources must include a working hyperlink to the source material.
The blog has visual interest. An image or an embedded video is included
The blog post URL is submitted through Blackboard –   Assignment Submit link 'Unit 5 – Evolutions and Innovations Blog' with a working hyperlink. If your hyperlink doesn't work you will get a zero and will need to resubmit. Late Penalties will apply.

General Blog Requirement Checklist  – Click on this link for a downloadable copy. It will take you to a new page, and then you need to click on the General Blog Requirements Checklist again.

---

Scholarship

Part of the liberal arts paradigm is considering what others say. As part of your analysis, you need to utilize either the internet or the library (periodicals like the Rolling Stones, All Music, etc.) to see what others say about the music you selected. You need to reference what others say in your blog post. If you come up empty-handed, your next alternative is a short biographical or historical background on the composer(s) or the style of music.

You are expected to have two cited sources for your analysis.
Additionally, if you utilize any web sources to help you figure out the musical elements — cite that as well.
Who wrote the music? It isn't uncommon to find that the performer isn't the composer. Make sure you check.

---

Editing

Good writing counts. Penalties for poor editing will be applied. Same thing for video. Don't ramble. Have a script or an outline to follow.  Link to Useful Writing Tools

Instructions - Innovations and Evolutions Comments

Comments – Innovations and Evolutions

You can learn a great deal by reading what your fellow students wrote.  You might hear music you've never experienced before.  You might hear something you already know in a different light.  As part of the EXPLORATION component in this course, you are required to comment on 2 of your fellow student's blog posts.  Your comments  need to include the following:

Agreement or disagreement. Did you like the same things that they liked? Why or why not. Be polite. If we all liked the same things, music would never evolve.
Add to the discussion. Did you notice something was missing from the assignment? Did you notice another musical element that wasn't considered? Could you direct them to another work or style? Maybe there is an article that would be helpful?
Submit your comments on Blackboard for grading  using the Assignment Submit   link 'Unit 5 – Evolutions and Innovations Comments'
Proper submission formatting.

Use the  Assignment Submission section of Blackboard to submit your comments.
Do not use the  Add Comments  area of Blackboard.
Submit the URL of each blog you commented on and hyperlink it in Blackboard.
Cut and paste your comment below the hyperlinked URL.

Grading Criteria for Comments

 All comments must be submitted properly. If not, then you will receive a zero, with a request to resubmit properly – 1 point.
Opinion stated – 4 points for each comment.
Explanation of option – 4 points for each comment.
Adding to the discussion/exploration/learning – 4 points for each comment.

---

Preparation for the Next Unit
The next unit will focus on global music. You will get to dig into music from the country of your choosing and describe why you like it, and why it sounds so different than the music that predominates our culture. Get ready to take a musical trip.